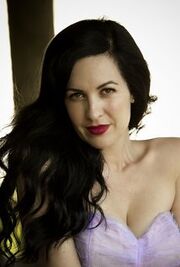 Grey Delisle-Griffin is american voice actress. She is best known voicing as Vicky from The Fairly OddParents, Sam Manson from Danny Phantom, Mandy from The Grim Adventures of Billy & Mandy, Frankie Foster, Duchess, and Goo from Foster's Home for Imaginary Friends, Yumi Yoshimura from Hi Hi Puffy AmiYumi, Azula from Avatar: The Last Airbender, Kimiko Tohomiko from Xiaolin Showdown, and Lola, Lana, and Lily Loud from The Loud House. She has been the voice of Daphne Blake in the Scooby-Doo Series.
Roles
Ad blocker interference detected!
Wikia is a free-to-use site that makes money from advertising. We have a modified experience for viewers using ad blockers

Wikia is not accessible if you've made further modifications. Remove the custom ad blocker rule(s) and the page will load as expected.